And the year 2022 is already starting with security problems in the cryptocurrency sector. After suffering its third DDoS attack in 6 months this last Tuesday (4), the price of the native asset of the blockchain Solana (SOL) is being influenced by crimes, causing the value of the cryptocurrency to drop.
Cryptocurrency to finance construction of photovoltaic solar plant in Brazil
Maricoin | First LGBTQIA+ cryptocurrency launched in Spain
The Solana network has been the target of more attacks since it grew more than 7,000% over the course of 2021. In this Tuesday (4)'s coup, the large volume of machines accessing the blockchain ended up causing it to go down for a few hours, only returning hours later, after corrections that fixed the flaw exploited during the offensive.
However, even though this is the third attack in six months, the price of the SOL asset only dropped 1.5% in the 24 hours after the event, reaching the value of US$ 168.2 (R$ 958.47 in the current conversion) per unit in the early hours of this Wednesday (5). Before the event, digital currency was being traded for US$ 175.7 (about R$ 1,000).
–
Podcast Porta 101 : the Canaltech team discusses relevant, curious, and often controversial issues related to the world of technology, internet and innovation every two weeks. Be sure to follow along.
–
Reasons for the attacks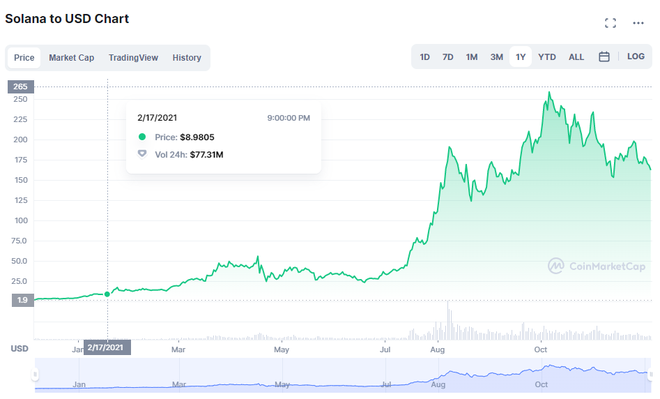 According to blockchain analysts told The News Crypto website, these constant DDoS attacks on the Solana network are not only done because of the value of its native token , but also because of flaws in the structure of the service itself.
The blockchain technical team is working to prevent future attacks of this type, but if the experts' analysis is correct, it will need a rebuild and update of the network to be able to stop 100% of the DDoS occurrences that are currently occurring with it.
At the end of this article, SOL was being sold for US$ 163.57 (R_jobs(data.conteudo)nbsp;932.09).
Read the article on Canaltech .
Trending at Canaltech:
Study reveals that mummy was pregnant; see images of the 2,000-year-old fetus
Fiat retires four cars at once in Brazil; see what they were
Developer can solve 30-year-old Linux problem alone
4 powerful cell phones on offer at Magalu
Ômicron: 7 symptoms associated with the new coronavirus variant